The first Ronald McDonald House® opened on October 15, 1974 in Philadelphia thanks to the vision and partnership of Dr. Audrey Evans of Children's Hospital of Philadelphia; Philadelphia Eagles' player Fred Hill, whose daughter had leukemia; Philadelphia Eagles owner Leonard Tose; and McDonald's.
The desire for a program that supported the unique needs of families with critically ill children quickly spread to other cities. In 1978, a group of concerned parents, known as the Children's Oncology Parent Endeavor, met with the administration at Cincinnati Children's Hospital Medical Center to discuss the living conditions of the families whose children were hospitalized. From this group's initial meeting with Cincinnati Children's, a grassroots effort was born.
November 1982
Cincinnati's first Children's Family House opened its doors.  There were 21 rooms plus a manager's suite. Quickly, the need began to outgrow the capacity of the existing house.
November 2001
A new Ronald McDonald House opened directly adjacent to Cincinnati Children's. The new House had 48 bedrooms,  including 26 long -term suites. The House included family rooms, a common dining room, laundry facilities, playrooms, an exercise room and on-site parking.
Spring 2009
The House was expanded by 30 rooms in an attempt to meet demand. The House now has 78 bedrooms.
2015
Ten of the House's 78 rooms were designated exclusively as short-term rooms. These rooms are for families whose stays will four nights or less and gives us the opportunity to serve more families than ever before.
2016
Meals can often be a huge stressor for our guest families. The time and expense to prepare them is something many of them don't have, so providing meals for them is one more way we can reduce their burden. In 2016, we refocused our efforts in this area, creating the Taste of Hope meal program. Groups who volunteer to provide a meal for our families are now guided by a professional chef who makes sure that the meals are healthy, delicious and offer a variety of food groups to appeal to our families from all around the world.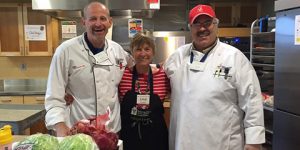 2018
In order to meet the needs of families from around the world, the House announces the largest expansion in its history. On September 12, 2018, ground is broken on a six-story, 107-room tower that will be attached to our existing House. When it is complete in early 2020, the House will have 178 bedrooms, an expanded kitchen, more common spaces for guests to interact and a rooftop garden as a respite after a long day at the hospital. To learn more about the More Rooms, More Love campaign, click here.