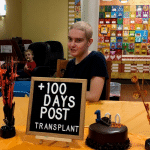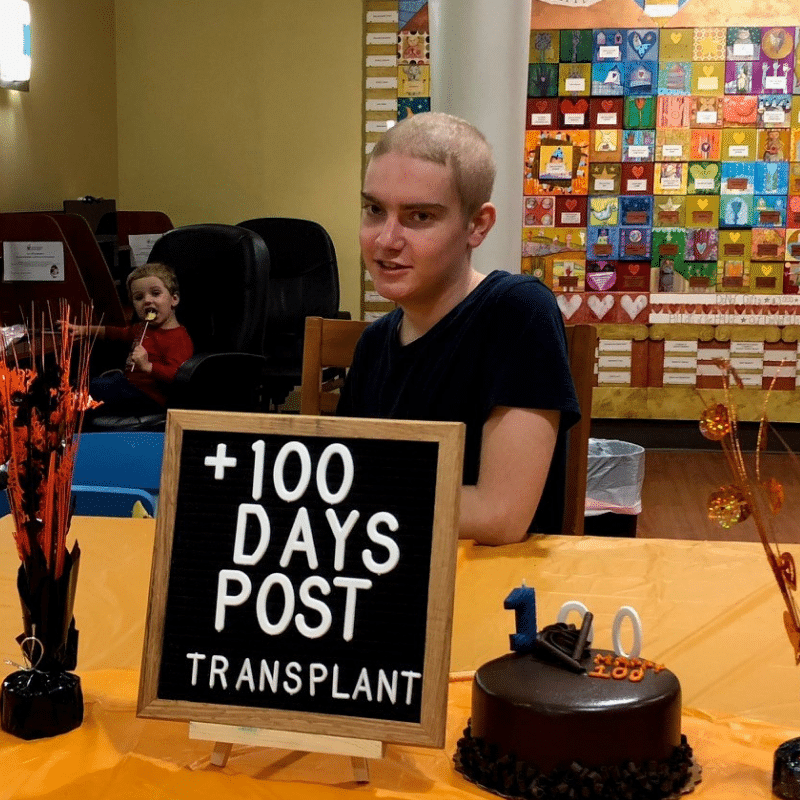 As the second oldest of eight children, Joey had a lot of people looking up to him. That's why he never complained when, over the course of a few months, he began getting colds that nobody else in the family got. He grew pale and had unexplained bruises on his legs. But at 16 years old, he didn't want to be bother, especially when his family was moving from Nebraska to Ohio.
Fortunately, Joey's mom Christen could tell that something wasn't right. Worried about her son, Christen took him to the doctor, thinking he might be anemic. She never expected the news that doctors delivered just one hour after lab tests were done on Joey. They called her and asked her to get Joey to the emergency room immediately. He was diagnosed with aplastic anemia, a condition in which the bone marrow fails to make enough blood cells for the body.
In order to save his life, Joey was life flighted to Cincinnati so specialists could begin treating his condition. He would need to undergo a bone marrow transplant. The family of 10 left their hometown of Papillion, Nebraska and traveled to Ohio. After a week of being in a hotel while Joey was in the hospital, the family knew they wouldn't be able to maintain living that way for long. The cost, the cramped space, the potential for germs and the distance from Joey were all major problems they would need to overcome. But then the call came from our House- we had a room for them. It was the breath of fresh air that they needed. Immediately, they felt at home. They knew they would be living in our House for many months, but they could be there together, for Joey.
Joey received bone marrow from one of his sisters, Lauren. While the transplant seemed to go well at first, just twelve days post-transplant, the number of new growing cells in Joey's body dropped to zero. Joey's body was rejecting the donation.
The family was devastated. If a sibling match is rejected, chances of any other donor matching are extremely small. Doctors were quick to find a solution, although it was considered a "Hail Mary" in terms of treatment. After a few weeks of waiting with emotions and stress running high, the cells began to grow again. It was a miracle.
As the cells grew, Joey experienced a few side effect diseases that are commonly seen during bone marrow transplants. However, doctors were ready. When they prepped Lauren for the transplant, they took extra blood. As Joey worked to grow new cells, specialists exposed Lauren's blood to different viruses, allowing it the chance to fight them off. Doctors gave Joey this blood when he began experiencing the side effects from his transplant to help him successfully fight them off. Another miracle.
In the hospital, he was completely isolated. His brothers would face time him and ask if he was "hiding" from them. It was heartbreaking for this older brother to be away from everyone. After battling more complications, Joey was finally able to join his family in the room at our House to finish recovering from his transplant. When that day arrived, it was much-needed emotional relief for Joey and his entire family. From the meals to the activities, there were too many "blessings" to count for this family. Through tears, Christen explained:
"This House helps not only Joey, but the whole family is supported. With a big family, the food is not only a convenience factor but a comfort factor. Having the House helped relieve the pressure of having to prepare, cook and clean up after meals. As a mom, I couldn't imagine having to go through this without the House. It's like home. It's a tremendous help.
It's given us our family back because we can all be together. Joey is no longer separated from the family. It's given me comfort, allowed me to be a mom, without the normal "mom" responsibilities so I can be there for all of my children. Having lived through this, it has changed us."
Joey's spirits have been lifted. He is better now that he is out of the hospital and close to his family. More than anything, this experience has left Christen feeling proud of her son. He recently looked at his mom and said, "Mom, when I get better, I want to volunteer at the Ronald McDonald House and give back." Bursting with pride, Christen explained that Joey and all of her children have been talking about different ways they can volunteer in our House.
On behalf of thousands of families like Joey's, thank you for helping our House possible when they need us most.